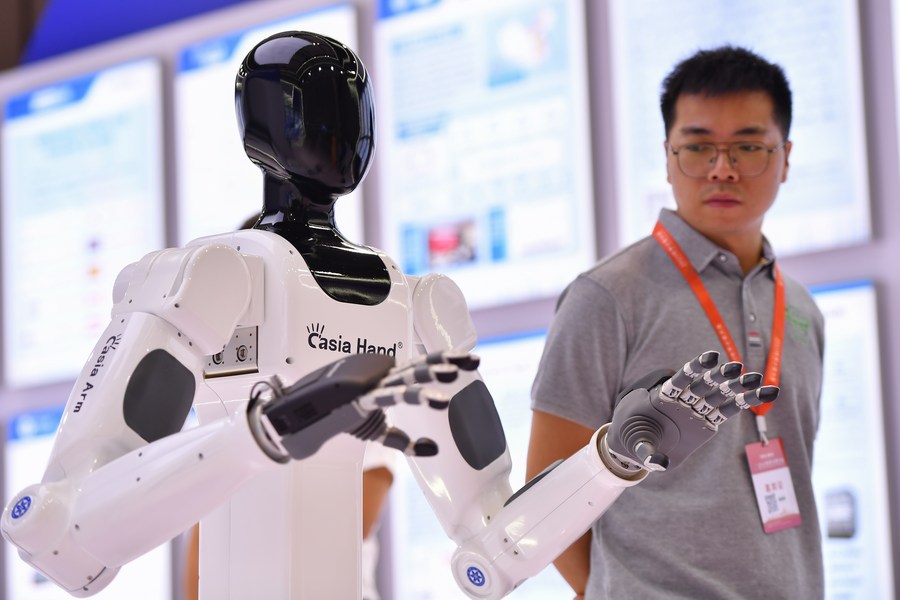 CHANGSHA, Sept. 16 (Xinhua) -- Robots that help us diagnose minor issues at home, self-driving taxis that stop when we signal, and trains that can recognize potential faults - these once-futuristic visions of tomorrow's world are here today.
Fueled by increasingly sophisticated algorithms, abundant data, and innovative ideas, a smarter way of living is now in full motion and on display at the World Computing Conference, which concluded Saturday in Changsha, the capital of central China's Hunan Province.
MORE CONVENIENT LIFE
Behind a throng of inquisitive onlookers, one exhibition booth is almost hidden as attendees crowd around a human-sized robot offering health advice.
After a participant describes symptoms, the robot performs a rapid analysis, provides diagnoses, and offers recommendations.
The machine is powered by an intelligent system that can provide comprehensive healthcare support, from self-assessment and medication reminders to intelligent self-diagnosis, video consultations, and emergency assistance, said Xiao Xiangjiang, chairman of Chaoneng Robot.
Xiao added that the robot is already supporting several large medical institutions in China, France, Germany, Saudi Arabia, and Singapore.
Behind the convenience lies the application of computing power, such as artificial intelligence and large-scale modeling technology. Moreover, it is not just the medical industry that is benefiting from intelligent computing products. They are also applied across diverse industries, markedly enhancing efficiency.
The GeoHan intelligent system, developed by Talkweb Information Co., Ltd., an integrated hardware and software product supplier, is one prime illustration.
The system excels at delivering personalized, energy-efficient solutions. For instance, it helps banks promote clean energy, low-carbon sustainability, and circular design principles, and makes healthcare information platforms safer and more efficient.
"In recent years, advanced computing has been integrated into various industries, emerging as a vital force driving national economic development, social progress, and technological innovation, ultimately making people's lives more convenient," said Li Xinyu, chairman of the company.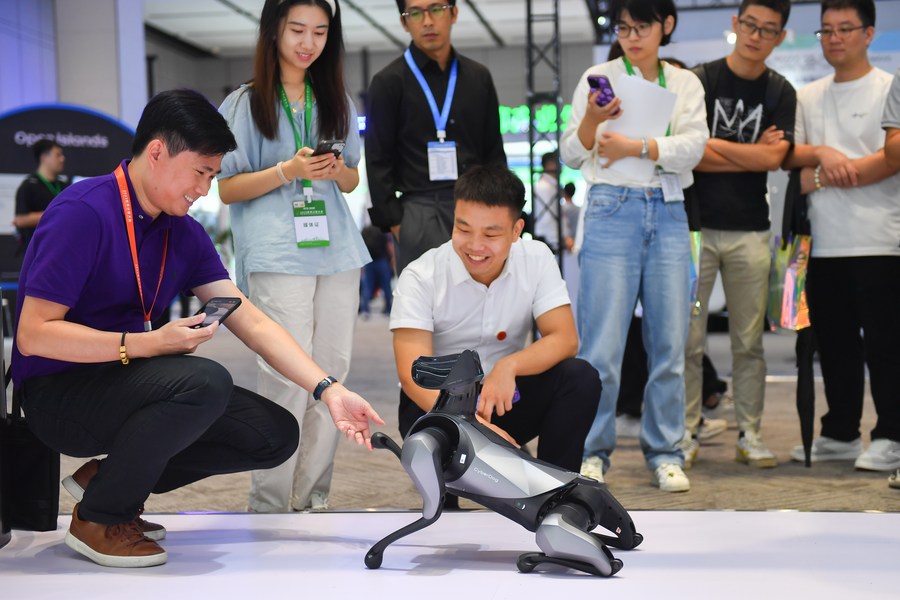 SMARTER LIFESTYLE
Actions that once demanded attentive human driving, such as evading pedestrians or obstacles, ensuring a safe following distance from the vehicle ahead, or managing challenging unexpected road situations, are now effortlessly executed by fully electric robotaxis.
Numerous autonomous driving companies in China are dedicated to advancing autonomous driving technology and accelerating its commercialization.
Driverless robotaxi services developed by Baidu's autonomous driving platform, Apollo Go, are now available in cities including Beijing, Shanghai, Guangzhou, and Shenzhen.
The smart taxi's onboard equipment, including cameras, laser radar, and millimeter-wave radar, plays a crucial role in sensing signals from the vehicle's surroundings, transmitting them to a data processor, and issuing instructions, according to the company.
Just as cars have "learned" to drive autonomously, trains have also "learned" to conduct self-diagnostic fault checks. In April this year, a 20,000-ton heavy-duty train completed its first autonomous driving trial run along the Shuozhou-Huanghua railway.
The core technologies developed by CRRC Zhuzhou Institute Co., Ltd. allow the train to identify and diagnose technical faults automatically, said company representative Hou Zhaowen.
If equipment on the train malfunctions, the network control system will issue a warning signal to the driver, prompting him or her to address the issue promptly, said Hou.
In the context of booming cloud computing, artificial intelligence, and 5G, among other emerging technologies, analysts believe that computing power has become vital infrastructure that will shape China's future technological landscape and its economic and social development.
The computing technology and computing sector, among many others, play significant roles, said Zhao Zhiguo, an official with the Ministry of Industry and Information Technology (MIIT), during the conference.
Zhao added that they demonstrate remarkable dynamism and immense potential through revolutionary innovation and are becoming a crucial force propelling comprehensive digitization.
In recent years, the country has made solid progress in developing computing infrastructure, and the computing power industry is following a smart, green, and safe development path. The scale of China's computing power industry has expanded at an annual rate of nearly 30 percent in recent years, according to MIIT.